A Day in the Life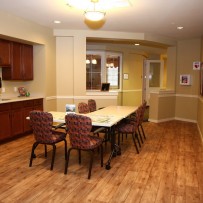 We've never met, although you've seen me … as you walk down the street, busy thinking about your day or your life. I live just down the street in a home I love.  My family played and laughed here. We cried here. My husband died here. I now live alone here.  The neighborhood has changed and many of my friends are gone. The children are grown with busy and successful lives of their own. I am proud of my once full life and how I have lived it; however, something is now missing.
I am alone too much.  I miss the sound of voices in the morning casually discussing plans for the day.  Today feels so much like yesterday and the day before.  Sunday evenings were once family time and now empty time.  I am alone just too much of the time.
How can I rediscover myself at age 78?  I don't feel 78 (whatever that is supposed to feel like) even though I need some help from time to time!  Life is full of connections we make with people as we go about raising a family, working and playing.  I miss being connected and miss being needed.  I have friends, but getting together seems much more difficult somehow, and many are no longer here.
I want more out of life and I want my life to have meaning.  I've always wanted to paint or sculpt, but there were always other responsibilities.  I love to read and I do, but I want to have some fun too.  Is it too late for me to experience the world for myself?  Where do I start?  What are my choices?
A friend told me about an announcement she saw introducing a new type of community, Mountain Plaza.  I smiled when I saw the western style art and the caption stating "today is for living".  Somehow the image reached me.  I like the idea that life can blossom for me too.  I think I will call and begin to explore my options.
How different Mountain Plaza is from the other communities I have called.  I enjoyed talking with Beth not only about my life, but hers too – we connected.  Beth was so interested in me and what I want from life.  We didn't discuss apartments, prices or even the services Mountain Plaza offers.  We talked about me!  Beth was interested in my thoughts about life.  What I want to do with my future.  How I want to connect with people.  I was told I can even create a piece of art for this new community.  How fun!  I scheduled an appointment and was excited to meet "this Beth" at Mountain Plaza.
When I visited Mountain Plaza Information Center, Beth was incredible!  We laughed and we talked endlessly. We got serious about my future, and I learned a lot about Mountain Plaza and their vision.  As I left I realized I have lived so many wonderful years in my home; but it just isn't the same anymore.
Deciding to move is the hardest part – especially with all the memories. But, I am alone. I like the idea that I am able to stay in the same neighborhood where I have lived for many years.  As I left Mountain Plaza I had the feeling I could become a part of something.  I find myself feeling excited about Mountain Plaza, as there will be so much to do, and so many ways I can reinvent or rediscover myself.  I've decided I am going to move to Mountain Plaza when it opens.  Something to look forward to!
My children are coming for a visit to see what I'm excited about.  Beth made arrangements for my son to meet the Encore Partner's folks when he visited Denver on a recent business trip.  Do people really do business this way? … so warm and engaging, so understanding, and so personable?  I already feel my life has changed just having met these people.  In fact Ron's vision is founded on his passion to improve life as we age because of his life experiences with his grandma Allena, whom he loved dearly.  He said Mountain Plaza will be dedicated to his grandma, in her honor!
After all these years I am moving.  I am a little scared, but I am also so excited about the future.  I have met so many wonderful people at Mountain Plaza and I had no idea some of my friends are moving here too!  I am busy again.  The piece of art I created was dedicated at the Grand Opening ceremony.  My daughter-in-law is helping me settle in so I can go on an excursion next week.  My children say I am behaving as if I were back in college!
Three months have passed.  Mountain Plaza has reconnected me to my life and the world around me.  I am meeting people from all over the country and from my own neighborhood.  I am having fun and wished Mountain Plaza could have been built two years ago, think of the fun I could have had.  No worries, I am now making up for lost time.
Life is a series of moments.  I often think of my husband, our children, and our years together in our family home.  I loved those years and nothing will ever change that.  Because I was alone, my "home" became a "house" – filled with responsibilities – painting, repairing, weeding, mowing grass, snow shoveling, even changing the front porch light bulb became a major task.  I just couldn't keep up and I was tired of asking the neighbors and my children for help.
My life is different now in so many ways.  I love helping tend the rose and herb garden.  I enjoy being in the theatre troop and the bridge tournament.  I was so proud of the art piece we created as pioneers of this community.   I have referred three of my friends to Mountain Plaza.  We laugh a lot these days.  I even think my one friend cheats at cards!
My son gave me a cell phone for my 79th birthday – for some reason the children can't
seem to reach me at home anymore!
– Anne, Resident at Mountain Plaza Assisted Living, Casper, Wyoming